Due to no school, the pizza delivery will be postponed. It will be the week of November 28th. We will give the exact date and time when we are notified.
No school today due to the icy roads. The Veteran's Day program will be rescheduled. Go Tigers!
Good evening, This is Supt. Krogman with an announcement. The White River School District will be having a 10:00 am late start tomorrow, November 10th. We still plan on hosting the Veteran's Day program beginning at 2:00 in the Community Events Center. We invite all community members to attend the program. It will also be streamed on our Tiger TV YouTube channel for those who are unable to attend. Again, 10:00 am start tomorrow with the Veteran's Day program beginning at 2:00. Please be safe and stay warm. Go Tigers!
No middle school girls' basketball practice tonight. No Tiger Support or activity runs after school. Please get home safely.
8TH GRADE field trip to USD leaves tomorrow. Be sure to wear appropriate clothes for the weather. 8TH GRADE students with completed permission forms need to meet in front of the Middle School at 4:45 a.m. The bus will leave at 5:00. Remember you are responsible for your transportation to and from the school.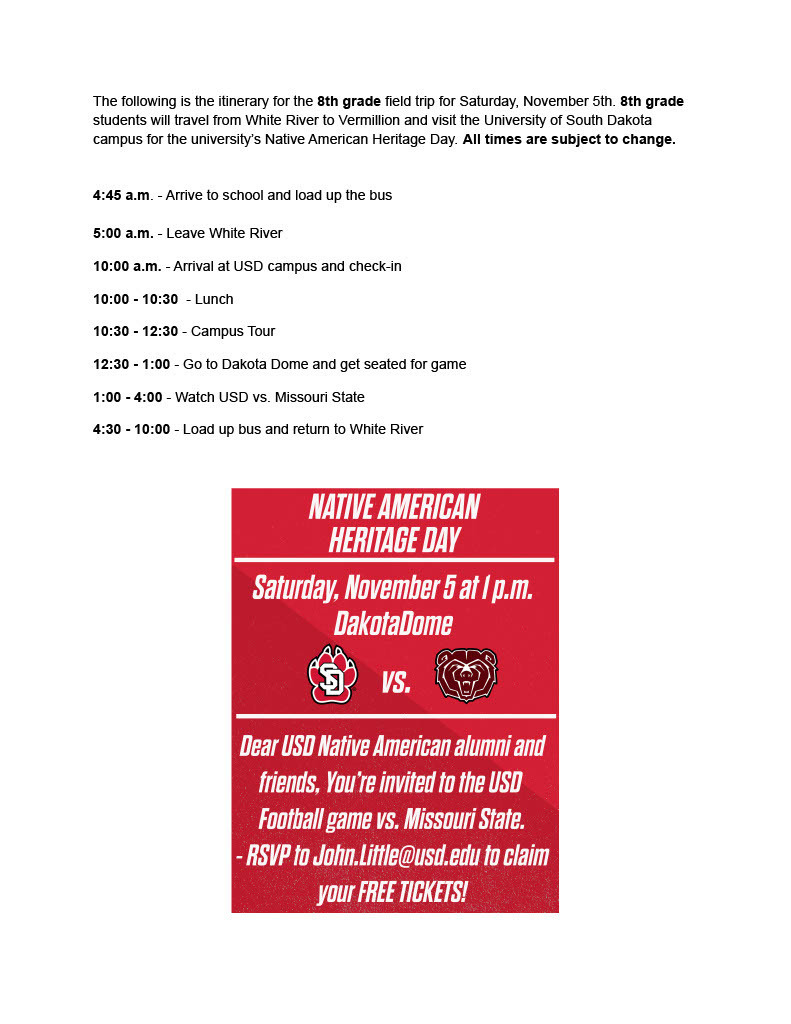 Attention parents of fifth grade students. This letter will be coming home in the next two weeks. It is a permission form for students to bring their band instrument home. Please watch for it in their folders.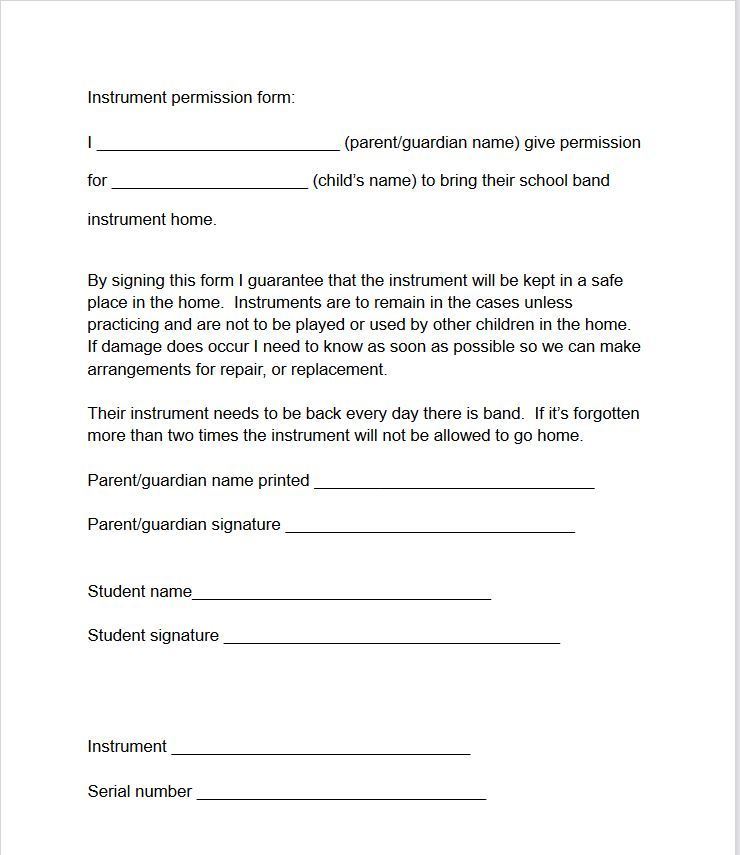 ORAL INTERP AT DISTRICT 9B (CHAMBERLAIN) 11/1/22 Oral Interp will be competing at the District 9B contest today at Chamberlain! Good luck Tigers!!


The Lady Tigers will play at St. Francis tonight, JV match will start at 5:30 pm (central) followed by the Varsity match. >>This was originally scheduled to start at 6:30 pm but changed to 5:30 pm due to it being Parents Night for St. Francis​​<< Livestream link: https://www.youtube.com/channel/UCi03UsRTPBO5Bfdrs-WvVcg Good luck Lady Tigers!!
ATTENTION: Middle School girls' basketball practice will begin on Monday, October 24 @ 4:00 pm. We are still searching for a head coach for the team. If interested, please contact the school at 605-259-3135 and speak with Eldon Marshall.
WHITE RIVER SCHOOL DISTRICT 47-1 SPECIAL SCHOOL BOARD MEETING OCTOBER 24, 2022 5:00 PM A. ROUTINES--ORDER A-1 CHAIRMAN CALLS THE MEETING TO ORDER A-2 PLEDGE OF ALLEGIANCE TO THE FLAG A-3 ROLL CALL A-4 ADDITIONS OR DELETIONS A-5 APPROVE AGENDA B. PUBLIC PARTICIPATION - in attendance express their concerns to the White River Board of Education. C. INTRODUCTIONS – Louie Krogman, Superintendent, will give an explanation of Impact Aid, JOM, and Title VI outreach meeting. Provide patrons with an opportunity to review the Indian Policies and Procedures according to P.L. 103-382. D. EXECUTIVE SESSION as per SDCL 1-25-2 for personnel matters. E. POSSIBLE ACTION ITEMS FOLLOWING THE EXECUTIVE SESSION F. ADJOURNMENT

HS VB VS LOWER BRULE 10/18/22 (PARENT'S NIGHT FOR CC AND VB) The Lady Tigers will play vs Lower Brule tonight in White River. It will be Parent's Night for the high school volleyball and cross country teams. SCHEDULE: >5:30 pm JV match >**Parents Night for CC and VB right after JV match​​**​​ >Varsity match will start 15 minutes after Parents Night Livestream link here:
https://www.youtube.com/watch?v=uQsjTJ-sNU8&list=PLnXG6s9zr8E37foyn76xeDpMi-esk5Zv-&index=26
Good luck Lady Tigers!!

HS FB VS PHILIP 10/14/22 (PARENT'S NIGHT) Tigers football will play vs Philip tonight, kick off will be at 7:00 pm (central). **At halftime will be Parent's Night for Tigers football and cheerleaders!** Livestream link:
https://www.youtube.com/watch?v=7cR48BV-L8g
Good luck Tigers!!     

MS/HS VB AT COLOME 10/13/22 Middle school and High school volleyball will play at Colome today, here's the schedule: 4:00 pm MS VB 'B' match followed by the 'A' match 6:30 pm JV match followed by the Varsity match Livestream link here:
https://www.youtube.com/channel/UCWCjf47gUD7eyCesddHWdCA
Good luck!!

The White River Tigers competed at Region XC in Philip on October 12th. Qualifying for State were Mackenzie Wike - 18th with a time of 21:31 and Elijah Haukaas - 20th with a time of 21:45. Also running were Kingston De'Sersa - 23rd - 22:38, Koen Wike - 29th - 24.07 and 30th - Shawn Bordeaux with a time of 24:11. Mack and Elijah will compete at the State Cross-Country Meet in Huron on October 22nd. Team Placings were as follows: (Top 3 qualify as a team) Philip - 6 Lemmon - 26 Wall - 29 Kadoka Area - 44 White River - 50 Tiospaye Topa - 78 -Coach Sayler -Coach Rogers
WHITE RIVER SCHOOL DISTRICT 47-1 SCHOOL BOARD MEETING OCTOBER 12, 2022 6:30 PM A. ROUTINES--ORDER A-1 CHAIRMAN CALLS THE MEETING TO ORDER A-2 PLEDGE OF ALLEGIANCE TO THE FLAG A-3 ROLL CALL A-4 ADDITIONS OR DELETIONS A-5 APPROVE AGENDA B. PUBLIC PARTICIPATION—is placed first on the Agenda to accommodate (1) a school patron who wishes to address the Board; or, (2) a patron who wishes to present a proposal or concern; or, (3) to a patron who has provided the Board Chairman with a written grievance prior to the meeting which has not been resolved after the school patron has worked through the school organization. (Working through the organization means the school patron has met with the staff member, as appropriate; and with the principal, as needed; and/or, then with the superintendent.) If these meetings have been held and the grievance remains unsolved, the Board will deal with the written grievance at its meeting. If not, the Board shall proceed, without interruption, with the other business of the Board. Personnel matters of a controversial nature, which would include students, teachers, or other persons, shall not be discussed by the Board in open session with a school patron. A school patron may request an executive session with the Board. (An executive session may be granted at the Board's discretion; and, only after the Board's business is concluded. This is an accommodation to other school patrons who are attending this meeting.) Anyone wishing to speak to the Board must be acknowledged by the Board Chairman. This will permit the meeting to be handled in an orderly manner. Speakers are requested to identify themselves and their topic and are asked to limit their remarks to five (5) minutes. Thank you for your attendance, interest, and participation. C. ROUTINES--BUSINESS C-1 Minutes, Financial Reports, Payment of Bills, Financial Report to the SD Department of Education, and Money Transfers D. PERSONNEL AND OTHER ACTION ITEMS D-1 Principal's Reports D-2 Travel Reports D-3 Travel Requests D-4 Inclement Weather Procedures D-5 Amend Start School Plan E SUPERINTENDENT'S REPORT E-1 Facilities Update F. EXECUTIVE SESSION(s) as needed G. ADJOURNMENT
Tomorrow October 13th at 11:29 to 12:25 (5th period) there will be a Live FASFA webinar for seniors and senior parent/ guardians, in Mr. Beardt's room. Thank you!
Flu shots will be available Monday, October 17th at 9 am, for White River School District Students and staff in town who are enrolled with IHS. Public Health Nurses from Rosebud will be conducting the flu shot clinic. Consent forms will be sent home with elementary students today and can also be found in your student's school office. Flu shots for Norris School will be Wednesday the 19th with consent forms going out this week.

CC AT REGION 5B MEET AT PHILIP 10/12/22 Tigers cross country will compete at the Region 5B meet tomorrow, Wednesday-October 12th, at 11:00 am (central). (This meet was originally scheduled for 1:00 pm (central) but due to the forecasted weather/winds it's going to start earlier.) Good luck Tigers!!
Good afternoon, This is Supt Krogman with an announcement about today's middle school volleyball match vs. Todd County. Originally Todd County called to cancel the volleyball match due to lack of transportation. Later they contacted our school and wanted to play the match, so the middle school volleyball match will be played today in the Don Barnhart Gymnasium beginning with the C-team match at 4:30 pm. We apologize for the confusion. Go Tigers!